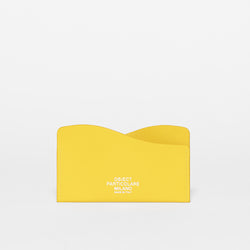 CARD HOLDER YELLOW
Asymmetric and flexible leather card holder with silver logo stamp
Handmade in our factory in Vicenza with leather scraps from our bags
Object Particolare team will dispatch your order within the next working day.
Standard Shipping
Europe €20,00 - delivery in 3-5 working days
DHL Express
Italy €10,00 - delivery in 1-2 working days
Europe €25,00 - delivery 1-2 working days
Worldwide €50,00 - delivery 1-2 working days
MATERIAL
Italian Nappa leather
ORIGIN
Handmade in Vicenza, Italy
DIMENSIONS
Length 10cm, height 6cm,
PACKAGING
Comes with a dust bag and a box.
MAINTENANCE
Spot clean exterior with damp cloth and wipe dry, interior can be wiped with wet cloth and wiped dry. More care instruction inside the product tag.
QUESTIONS?
support@objectparticolare.com